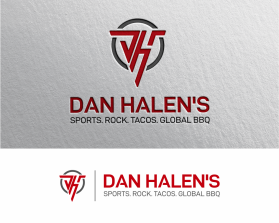 Congrats to manD for submitting the winning entry
Logo Design Contest for
Dan Halen's
by ttalbot
80CREATIVES
290ENTRIES
8455CONTEST VIEWS
$150.00PRIZE AWARDED
Company or website name
Dan Halen's
Slogan or Tagline
Sports. Rock. Tacos. Global BBQ
Describe your company and organization and target audience
We are developing a chain resto-bar concept that is being considered for multiple placements across North America. The inspiration is based on the original Hard Rock Cafe model that is a combination restaurant and retail hybrid concept and heavily rooted in pop-culture, especially rock n' roll as one of the partners has a long history in the music industry and the other partner is a 'lifer' in the restaurant/hospitality industry.

The concept has a unique personality/persona/theme which is very rare in what currently exists in any market that the team can find in their research. It is very much a 'cutting edge' model. We would describe the concept as an 'upscale urban divebar'. A very raw, gritty, edgy feel that definitely carries an attitude and exudes swagger. However, when it comes to the food and the beverage program, it's all about culinary professionals pumping out restaurant-quality offerings = restobar.

The concept is also unique in that in addition to having the basic food, beverage, live entertainment offering on par with any bar concept, there are also retail elements from a heavily-driven merchandise program, to grab n' go offerings, to catering/pop up events, to delivery (possible ghost kitchen model) and even a food truck.

The target locations for this concept will be in densely populated urban areas and suburban mixed-use (residential/commercial) locations. It will cater to primarily to Millennials, Gen Z's but the concept and name itself will resonate with Gen X'ers who will get the rock references, pop culture throwback themes on programming and merchandise and make the connections/correlations to the original Hard Rock Cafe concept.
FULL CREATIVE BRIEF
START YOUR OWN
CREATIVE CONTEST
Fast - see designs in hours
Awesome - choose from dozens of custom designs made just for you
Affordable - We have packages priced for budgets of all sizes
LAUNCH A CONTEST