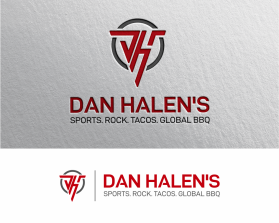 Logo Design Contest
Dan Halen's
by ttalbot
Contest received 290 entries and the contest holder has awarded a winner.
Company or website name
Dan Halen's
Slogan or Tagline
Sports. Rock. Tacos. Global BBQ
Describe your company and organization and target audience
We are developing a chain resto-bar concept that is being considered for multiple placements across North America. The inspiration is based on the original Hard Rock Cafe model that is a combination restaurant and retail hybrid concept and heavily rooted in pop-culture, especially rock n' roll as one of the partners has a long history in the music industry and the other partner is a 'lifer' in the restaurant/hospitality industry.

The concept has a unique personality/persona/theme which is very rare in what currently exists in any market that the team can find in their research. It is very much a 'cutting edge' model. We would describe the concept as an 'upscale urban divebar'. A very raw, gritty, edgy feel that definitely carries an attitude and exudes swagger. However, when it comes to the food and the beverage program, it's all about culinary professionals pumping out restaurant-quality offerings = restobar.

The concept is also unique in that in addition to having the basic food, beverage, live entertainment offering on par with any bar concept, there are also retail elements from a heavily-driven merchandise program, to grab n' go offerings, to catering/pop up events, to delivery (possible ghost kitchen model) and even a food truck.

The target locations for this concept will be in densely populated urban areas and suburban mixed-use (residential/commercial) locations. It will cater to primarily to Millennials, Gen Z's but the concept and name itself will resonate with Gen X'ers who will get the rock references, pop culture throwback themes on programming and merchandise and make the connections/correlations to the original Hard Rock Cafe concept.
The design should have the following
A strong hard rock association. It should be edgy and raw. It should not be cliche or cartoonish. Although there is an inference to the Band, Dan Halen, we want to avoid any designs that would give rise to a potential copywriter or trademark issues. Remember, this is being pitched as a chain concept so we will eventually pop up on the radar and do not want to have to recreate our entire brand, down the road.

Do not want anything that is neon or that is following current Instagram colour trends. The logo/design has to have a long-lasting shelf life and be somewhat 'evergreen' and timeless.

We want the name, Dan Halen's, to be the wordmark logo and then the tag lines of sports, rock, tacos, global bbq to be elements in the design but there is a distinct possibility, those taglines/elements may change with the times so the core logo is Dan Halen's and we want to design a 'landscape' that allows us to plug n' play with tag lines as we evolve or as we want to change the focus based on programs or to be tailored to specific markets.
This logo will be used for
Online (Website, facebook etc.)
Print (business cards, letterheads, brochures etc.)
Merchandise (mugs, t-shirts etc.)
Signs (including shops, billboards etc.)
This design should not have this in the entries
- No neon or 80's pastel colours. Prefer to use a simple palette of colours. I.e. Black, Red, White; black n' white, Red and white, and the reverse versions
- No hard to read cursive or flowery fonts.
- No use of guitars in the imagery as that is the Hard Rock owned theme.
- No use of fork, knives, martini/beer glasses or anything that is cliched restaurant styled imagery. The name is the brand. We will communicate all the restaurant/bar messaging in our copy of images used for social, web etc.


Colors to use in the design
Red
Black
Grey
White

Combinations thereof.
Briefly describe your contest
Looking for a kick ass logo for a completely new and cutting edge restaurant/bar/retail concept. Sooooo exhausted from hiring designers that lack inno