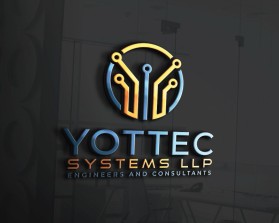 Logo Design Contest
Yottec Systems LLP (Yottec is a registered trademark.)
by gomunama667
Contest received 163 entries and the contest holder has awarded a winner.
Company or website name
Yottec Systems LLP (Yottec is a registered trademark.)
Slogan or Tagline
Currently the Tagline is "Engineers and Consultants"; however this needs to be changed to reflect the wider portfolio. Find attached the Current Logo for reference
Describe your company and organization and target audience
The Logo will be for the Company.
The Company works on Projects with the Defence and Homeland Security Sectors and is working on Systems that are of Electronic, Mechanical, and Electro-Mechanical in nature, which includes software, integration, etc.
Further, the Company works on Systems that are used by the Naval, Aero, and Land-Based Forces.
The Core Competency of the company lies in its ability to make systems from concept to production, which includes R&D, Design, Analysis, Manufacturing, and Testing.
The design should have the following
The design should convey that the Company is reliable and trustworthy, puts care and thoughts into its products, and is there for the Long Run to serve the Defense Fraternity.
We must keep in mind that the Defense Fraternity has limited access to the internet and other forms of media on their premises, and hence the logo must be unique and have a high recall value.
This logo will be used for
Online (Website, facebook etc.)
Print (business cards, letterheads, brochures etc.)
Merchandise (mugs, t-shirts etc.)
Signs (including shops, billboards etc.)
Television/screen
This design should not have this in the entries
While we deal with the Defense, we avoid projects which are directly for Weapons and weapon systems – hence Missiles, bullets, knives, etc. on the Logo should not be present.
Colors to use in the design
No Specific Comment.
The Current Logo was intended to show the 3 Shades of Defense:
i) Army
ii) Airforce
iii) Naval
and hence the 3 Prongs of the Y in Yottec.