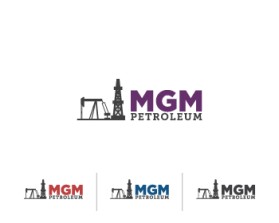 Logo Design Contest
MGM Petroleum
by MGM Petroleum
Contest received 107 entries and the contest holder has awarded a winner.
Company or website name
MGM Petroleum
Slogan or Tagline
No information provided.
Describe your company and organization and target audience
the company buys oil and gas rights from individual land owners as well as assists in negotiating leases for land owners
The design should have the following
the logo needs to look professional, not lots of different colors or funky cartoon font... a logo that looks like an established company thats been around for decades not a couple months. The logo will be on letterhead and business cards, not on billboards or internet adds so it doesn't need to be flashy or necessarily eye catching.
This logo will be used for
Print (business cards, letterheads, brochures etc.)
This design should not have this in the entries
No information provided.
Colors to use in the design
Purple,Red,Black,Blue,Green. Anycolors
Briefly describe your contest
New logo needed for oil & gas compan