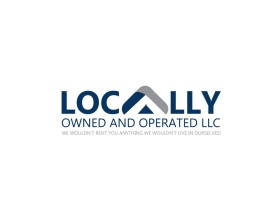 Logo Design Contest
Locally Owned and Operated LLC
by tlr9qd
Contest received 38 entries and the contest holder has awarded a winner.
Company or website name
Locally Owned and Operated LLC
Slogan or Tagline
We wouldn't rent you anything we wouldn't live in ourselves!
Describe your company and organization and target audience
We are a local property management company that owns and operates all of the rentals we list. They are all in good areas and none in low income or high crime areas. We want to target audience who is tired of big corporate complexes etc. Hit a niche
The design should have the following
"Locally Owned and Operated LLC" It should be able to be put on signs. Rental signs and not occupy the whole sign.

Thanks!
This logo will be used for
Online (Website, facebook etc.)
Print (business cards, letterheads, brochures etc.)
Signs (including shops, billboards etc.)
Colors to use in the design
Dark that would go well against a light or white back. Think rental signs and for sale signs for homes.
Briefly describe your contest
Thanks!