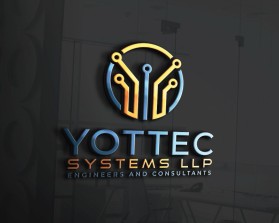 Congrats to Amit1991 for submitting the winning entry
Logo Design Contest for
Yottec Systems LLP (Yottec is a registered trademark.)
by gomunama667
60CREATIVES
163ENTRIES
4964CONTEST VIEWS
$200.00PRIZE AWARDED
Company or website name
Yottec Systems LLP (Yottec is a registered trademark.)
Slogan or Tagline
Currently the Tagline is "Engineers and Consultants"; however this needs to be changed to reflect the wider portfolio. Find attached the Current Logo for reference
Describe your company and organization and target audience
The Logo will be for the Company.
The Company works on Projects with the Defence and Homeland Security Sectors and is working on Systems that are of Electronic, Mechanical, and Electro-Mechanical in nature, which includes software, integration, etc.
Further, the Company works on Systems that are used by the Naval, Aero, and Land-Based Forces.
The Core Competency of the company lies in its ability to make systems from concept to production, which includes R&D, Design, Analysis, Manufacturing, and Testing.
FULL CREATIVE BRIEF
START YOUR OWN
CREATIVE CONTEST
Fast - see designs in hours
Awesome - choose from dozens of custom designs made just for you
Affordable - We have packages priced for budgets of all sizes
LAUNCH A CONTEST