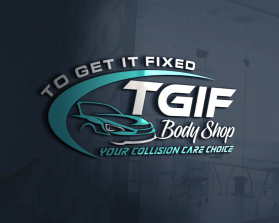 Logo Design Contest
TGIF Body Shop
by Curious1!
Contest received 464 entries and the contest holder has awarded a winner.
Company or website name
TGIF Body Shop
Slogan or Tagline
To Get It Fixed, your collision care choice
Describe your company and organization and target audience
We specialize in collision repair which is different from basic body and paint. Today's vehicles are complex with safety systems and some vehicles have more computers than some airplanes. Much training is required and relationships with manufacturers who design and build the vehicles is necessary to apply proper repair.
Our customer is anyone who either works or lives within a 40 mile radius of our facility. They are people who care most about proper repair and that consumer is our sole focus throughout the process as we guide them through the maze of processes that a repair requires. Although we strive to be efficient with vendors and business associates, our main focus is on the best interest of the consumer and vehicle owner.
The design should have the following
It should possibly connote what we actually do, as when I give my business card as a woman, we are often mistaken as an outlet for lotions or message. It would also suffice if it gives one the idea of what we are about. (I have no idea what that looks like. lol). Also people always wonder what TGIF stands for (To Get It Fixed....in case you forget the name you say to yourself I need to get it fixed....of yes, TGIF)
This logo will be used for
Online (Website, facebook etc.)
Print (business cards, letterheads, brochures etc.)
Merchandise (mugs, t-shirts etc.)
Signs (including shops, billboards etc.)
This design should not have this in the entries
??????? Naked or near naked women
Colors to use in the design
Teal and ?