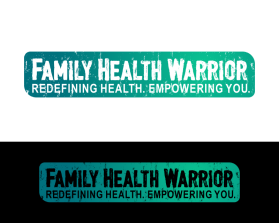 Congrats to Oidesign for submitting the winning entry
Logo Design Contest for
Family Health Warrior
by chirodeborah
19CREATIVES
217ENTRIES
13562CONTEST VIEWS
$150.00PRIZE AWARDED
Company or website name
Family Health Warrior
Slogan or Tagline
Redefining Health. Empowering You.
Describe your company and organization and target audience
Hi! I'm starting a brand catered to men and women between the ages of 25 and 55, with children, who are sick and tired of the U.S. medical system as we know it. In the United States, we dump the most amount of money in to "healthcare" in the way of medical procedures, pharmaceuticals/vaccinations, and the birthing and dying processes, yet we rank at the very bottom of developed countries in overall health. The "healthcare" model isn't working. I'd like to empower these moms and dads with common-sense themes that will grant them different and holistic options in taking care of their bodies and living optimal lives. The Family Health Warrior will cover everything from the birthing process (homebirth vs hospital birth), foods used to fuel our bodies (GMO's vs clean food) and the effects that food has on our bodies and lifestyle, medical care vs holistic (osteopathic, chiropractic) care, how to treat fevers and sicknesses without rushing to the medical doctor, and many others.

Prior to holistic health care, my background is in fashion, so I'd like the branding to be innovative, fashionable, and funky, but not so over-the-top where my audience isn't able to relate.
FULL CREATIVE BRIEF
START YOUR OWN
CREATIVE CONTEST
Fast - see designs in hours
Awesome - choose from dozens of custom designs made just for you
Affordable - We have packages priced for budgets of all sizes
LAUNCH A CONTEST