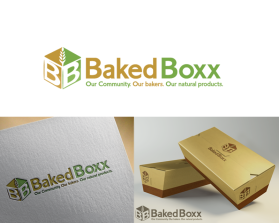 Congrats to alex.projector for submitting the winning entry
Logo Design Contest for
Baked Boxx
by BakedBoxx
40CREATIVES
136ENTRIES
18547CONTEST VIEWS
$175.00PRIZE AWARDED
Company or website name
Baked Boxx
Slogan or Tagline
Our Community. Our bakers. Our natural products.
Describe your company and organization and target audience
Welcome to Baked Boxx

We're so glad you found us! I'm sure you're wondering, just what exactly is Baked Boxx? Baked Boxx is a membership service providing high quality, non-GMO, CBD goodies shipped directly to your front door. We are passionate about bringing the benefits of CBD into your life!

What's in the Boxx?

Have you ever joined a CSA (Community Supported Agriculture) where fresh fruits and veggies are delivered to your door every week? Our Boxxes are kind of like that but with treats made with CBD derived from industrial hemp. So much more fun! We fill your Boxx to the brim with a variety of CBD goodies.

99% CBD and Above - Every. Single. Time.

All of our products are tested to make sure they are the highest of quality. The CBD used in all of our products must be guaranteed Non-GMO and pesticide free. Microbiological screening, chemical residue screening, residual solvent screening and terpene profiling are also conducted to make sure there is zero presence of contamination. All of our treats contain 99% or higher CBD as tested through cannabinoid profiling and NO traces of THC.

Will I Get HIgh?

Because CBD does not contain psychoactive properties, the treats should help you relax and focus, not help you get high. If you're looking to get super blazed, you've come to the wrong place. We believe in CBD as a resource to many human ailments. More and more studies are coming out each day about the benefits of CBD. But don't take our word for it, try it for yourself.

Baked Boxx Bakers

We use Bakers from all over the United States. Our bakers come together and are passionate about creating healthy, high quality products you can feel good about. We want to delight you with different new edibles each month as we grow our list of Baked Boxx Bakers so that you get more variety and so we can fit the diverse needs of our members. If you are interested in becoming a Baker, fill out the Contact form and we will reach out to you.

Our target audience is the age group 30-60. Specifically, Stay-at-home parents, Suburbanites, People who live in rural areas, Professionals who work in high-stress work environments, and those who need the nutritional properties that CBD provides.
FULL CREATIVE BRIEF
START YOUR OWN
CREATIVE CONTEST
Fast - see designs in hours
Awesome - choose from dozens of custom designs made just for you
Affordable - We have packages priced for budgets of all sizes
LAUNCH A CONTEST