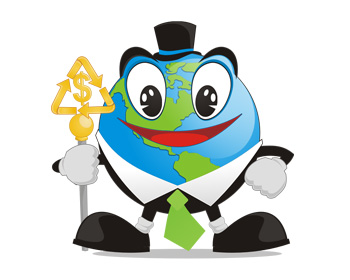 Comments for entry # 224435 dreven
Sep 07, 2010 04:09 PM
Also, can we enlarge the hat and change the color because right now it blends in with his eyebrows. Let's try a gold hat to match the wand and maybe a $ sign on it. We are confident you will win this contest, but we would like to see these last two modifications. We also have future mascot design contests available so this could turn into a more long term position. Thx for your time. dreven
Sep 07, 2010 05:09 AM
This design is looking good. We still would like to incorporate the words "Buy Back World" somewhere in the design. Perhaps we can put the word Buy on the left arrow, Back on the right arrow and World along the bottom arrow (of his stick). Then we could put another small globe in the middle with the dollar sign wrapped around it.
Browse other designs from this Graphic Design Contest