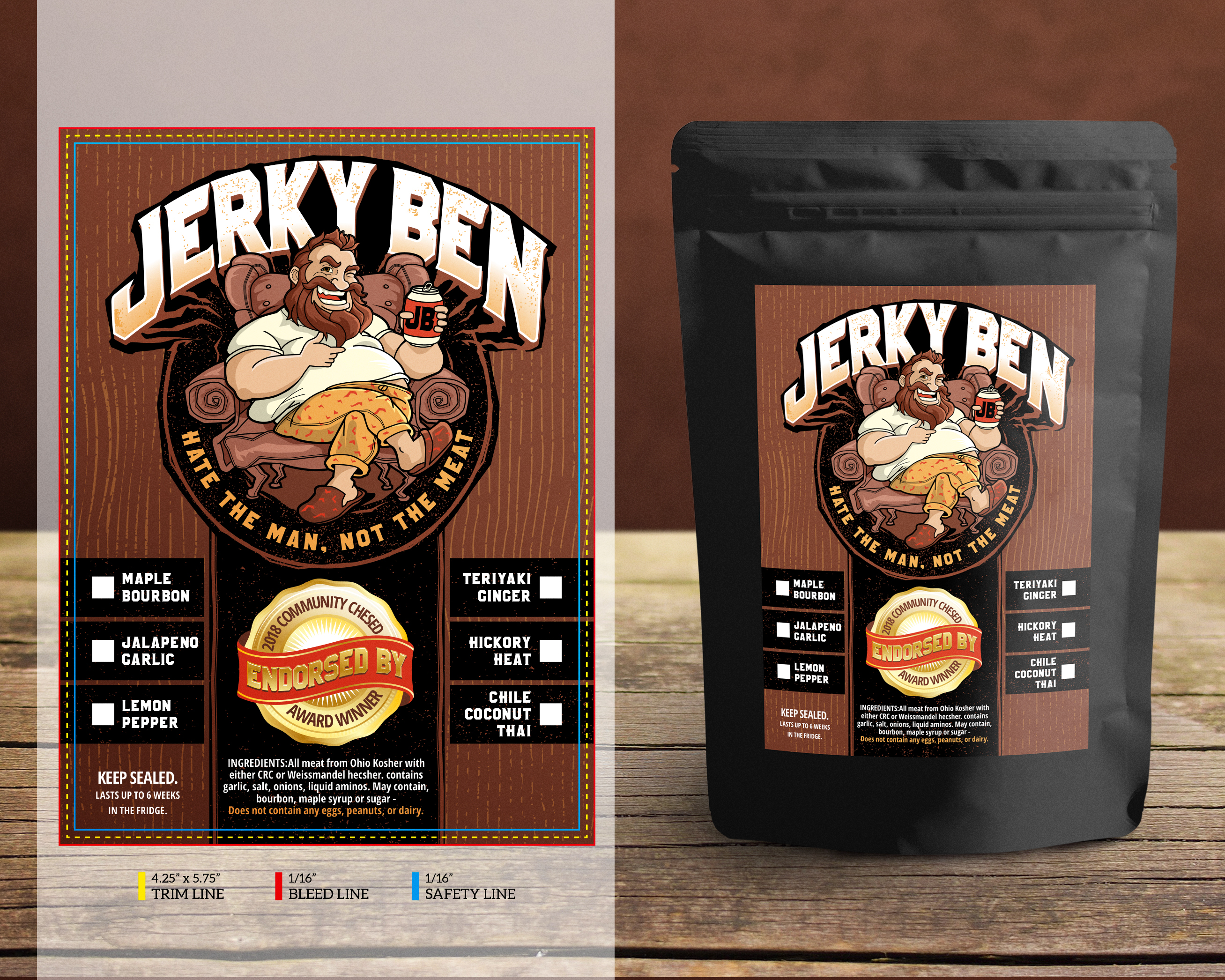 Congrats to taks0not for submitting the winning entry
Graphic Design Contest for
Jerky Ben
by chafetzben
13CREATIVES
67ENTRIES
12737CONTEST VIEWS
$300.00PRIZE AWARDED
Company or website name
Jerky Ben
Describe your company and organization and target audience
The name of the product: Jerky Ben
The Tagline: HATE THE MAN, NOT THE MEAT.

I make a beef jerky product. Right now i plan on selling from my house but i may decide to sell in local stores and online. My jerky is a high quality jerky and comes in a variety of flavor. The brand element for the product is me, Ben. I live in a tight knight community and am well known. I do a lot of community work, and I am involved in a lot of community projects. I have been in several articles and have received many awards for my service. I am known to be a funny, outgoing, loves life, loves people kind of guy. I am also a really fat guy and the natural assumption is fat people make good food. That is why name "Jerky Ben" is a funny name.

My target audience are people who like jerky. Again, I am not selling this on a wide level. This is a hobby, i make it, i sell it to friends who pre-order, i give it to people . My jerky is awesome. I want them blown away when they see the package and set their expectations super high. I also want the package to make them laugh a little about "Ben".

The design should be a charicature of comical, it is meant to be self deprecating in a humorous manner, not downgrading. The guy should not be a slob, just someone who you look at and you say "Wow, this guys knows meat and how to have fun"

FULL CREATIVE BRIEF
START YOUR OWN
CREATIVE CONTEST
Fast - see designs in hours
Awesome - choose from dozens of custom designs made just for you
Affordable - We have packages priced for budgets of all sizes
LAUNCH A CONTEST