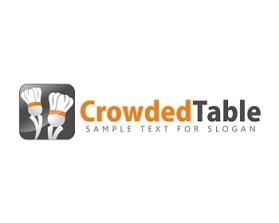 Congrats to eShopDesigns for submitting the winning entry
Logo Design Contest for
crowdedtable.com
by jdrake
12CREATIVES
52ENTRIES
3941CONTEST VIEWS
$221.00PRIZE AWARDED
Company or website name
crowdedtable.com
Slogan or Tagline
I will need one but haven't chosen it yet. For now, NONE, but there will be one.
Describe your company and organization and target audience
The logo should attract users, not chefs. Lifestyle, food, health, NOT personal chefs. It's most important that this service is accessible, not aimed at the rich. In the end I want "crowdedtable" to be a verb meaning, answer to my food dilemma.
FULL CREATIVE BRIEF
START YOUR OWN
CREATIVE CONTEST
Fast - see designs in hours
Awesome - choose from dozens of custom designs made just for you
Affordable - We have packages priced for budgets of all sizes
LAUNCH A CONTEST