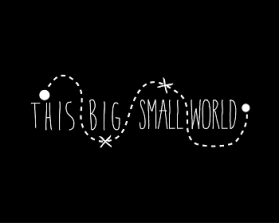 Congrats to nagamas for submitting the winning entry
Logo Design Contest for
This Big Small World
by m.t.wanderlust
10CREATIVES
44ENTRIES
6013CONTEST VIEWS
$120.00PRIZE AWARDED
Company or website name
This Big Small World
Slogan or Tagline
No information provided.
Describe your company and organization and target audience
My name is Tina Landry and my husband is Miki Landry. We met about 3 years ago in Hammond, LA and just got married this October. It was a small backyard wedding that was just perfect. 28 close friends and family attended. For the past 2 years, we started our journey .... to travel the world. we worked hard, saved money, sold our house and cars and many of our belongings to be able to embark on a two year trip around the world. We finally set out on December 3rd with Fiji as our starting destination. We really do not have much planned besides what we carry in our backpacks and our traveling partner. We are going to the plan the trip as we go. We do plan on traveling a little slower, spending more time in places instead of hoping all over the place. We do have some ideas in store as to what we may do and how we may do it. A few things we have in mind is to get a few wwoofing (farming in exchange for room and board) gigs, teach english, house sit, visit friends and family, etc... Our main goal is to see the world and meet its inhabitants from all corners of the earth, eat a lot (and learn to cook!) as we go a long, and learn about other cultures, people, and traditions. We will keep track of our travels through a travel blog/website. It will consist of stories, photographs, videos, recipes we learn, how-to\'s, books we\'ve read, lessons learned, adventures we have, people we meet, etc... We want to eventually get the site to have a page that maps out our travel. The site is mainly written by \"what would our family\'s want to hear about our travels\" We are hoping that making it personal will drive more readers to the site. We want to target people of all ages, from all different countries to read. We want other travelers to find our site informative but unlike most other travel blogs that target like minded travelers, we want your everyday person to find it extremely interesting even if they aren\'t planning on traveling like us. We want the average reader to be able to travel vicariously through us in a way!
FULL CREATIVE BRIEF
START YOUR OWN
CREATIVE CONTEST
Fast - see designs in hours
Awesome - choose from dozens of custom designs made just for you
Affordable - We have packages priced for budgets of all sizes
LAUNCH A CONTEST