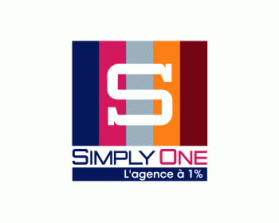 Logo Design Contest
Simply One
by trimmo
Contest received 191 entries and the contest holder has awarded a winner.
Company or website name
Simply One
Slogan or Tagline
L'agence à 1%
Describe your company and organization and target audience
"Simply One" must appear as two separate words. We'd like the capital "S" of Simply to be highlighted or put in evidence. The slogan must also appear probably below the logo.
The design should have the following
We already selected a color palette that we would like to use in the logo. We would like to see it appear as a palette.
This logo will be used for
This design should not have this in the entries
We target private individuals between 30 and 60 years old who are willing to sell their home (house, flat or any real estate property).
Colors to use in the design
This is the color palette we selected and must be used in the logo creation: http://1.bp.blogspot.com/-bV15WmSADhA/Tmfmek7xwGI/AAAAAAAAKx0/tI3VmVgPWfQ/s1600/FallSpectrum.png
Briefly describe your contest
Real Estate Logo