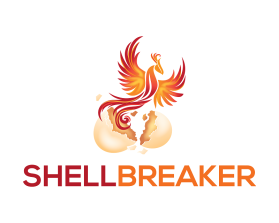 Logo Design Contest
ShellBreaker
by ShellBreaker
Contest received 154 entries and the contest holder has awarded a winner.
Company or website name
ShellBreaker
Slogan or Tagline
No slogan/tagline necessary
Describe your company and organization and target audience
ShellBreaker is a monthly event that helps people connect and interact face-to-face on a genuine and meaningful level through guided games and fun icebreakers.
Our target audience is the personal growth market consisting of men and women age 21-50 interested in playing games, participating in experiential exercises, and engaging with new people in creative and fun ways! We love our attendees, many of whom attend looking for new friends in the area, new connections, and maybe even someone new to date!
Please check out our website for more about what we do for possible design ideas: http://www.ShellBreaker.com

The design should have the following
We would like an image of a fiery, powerful, inspiring phoenix emerging from a breaking egg shell.

Movement and action would be amazing to see in this illustration! We would like the ShellBreaker text for the logo to be bold, crisp, and clear (not swirly or script). The font shouldn't be a "fun font," it should be a clear, direct, and powerful one.

We would love to see a magical phoenix emerging out of a breaking shell either above, to the left of, or somehow worked into the font of the SHELLBREAKER title itself.

We are looking for a logo that makes people smile, feel happy, open, brave, and inspired, and want to connect, participate, and play when they see it! :)

The overall "feeling/vibe" we hope to convey through the logo is that when people attend our event, they will "break free" from their masks or shells in order to live courageously, authentically, and fully expressed as their amazing selves!

We believe people want to interact face-to-face on a genuine and meaningful level. We want to see each other and to be seen for who we really are. We want to connect more deeply with others and with ourselves. ShellBreaker events support people in their growth and thriving.

We hope that your logo will help us reach more people and share our mission in an impactful and meaningful way. Thank you!
This logo will be used for
Online (Website, facebook etc.)
Print (business cards, letterheads, brochures etc.)
Merchandise (mugs, t-shirts etc.)
Colors to use in the design
Colorful, inviting, appealing, and fun!

Suggestions: Reds, oranges, yellows for the fiery phoenix emerging from the breaking shell. Light blue, white, off-white, or a tone of brown for the shell itself. Black/red individual or combination for the SHELLBREAKER title.
Briefly describe your contest
Seeking a fun, playful logo for "ShellBreaker" icebreaker/connection events!