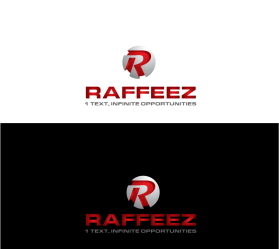 Logo Design Contest
Raffeez
by dmansell21
Contest received 197 entries and the contest holder has awarded a winner.
Company or website name
Raffeez
Slogan or Tagline
1 text, infinite opportunities.
Describe your company and organization and target audience
We need a logo made for a new company. Our company will be a a text to win sweepstakes. Example would be a dentist giving away free teeth whitening, contestants will text "WIN" to 12345 and a landing page web site will be texted back. I'm going to attach some examples (very generic).
The design should have the following
1 of our ideas is to have a raffle ticket that looks like a text logo with an "R" in it. We want the R like an Uber U, we want to know its Raffeez when you see it. I couldn't find any font that we liked.
This logo will be used for
Online (Website, facebook etc.)
Print (business cards, letterheads, brochures etc.)
Merchandise (mugs, t-shirts etc.)
Signs (including shops, billboards etc.)
Television/screen
Colors to use in the design
We dont have company colors. Would use the colors from the design we like to make company colors
Briefly describe your contest
We are looking for the U in Uber, the R in Raffeez.