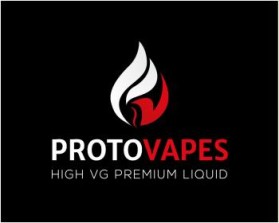 Logo Design Contest
ProtoVapes
by prototype4o8
Contest received 216 entries and the contest holder has awarded a winner.
Company or website name
ProtoVapes
Slogan or Tagline
HIGH VG PREMIUM LIQUID
Describe your company and organization and target audience
We are a vape liquid company. Our target audience is young adults from age 18 to 30. Mainly males. People who vape. People who want to quit cigarettes.
The design should have the following
It is required to include a logo which includes the P and a V for ProtoVapes. An emblem and label is also required which states the whole ProtoVapes name somewhere. The rest is up to your imagination.
This logo will be used for
Online (Website, facebook etc.)
Print (business cards, letterheads, brochures etc.)
Merchandise (mugs, t-shirts etc.)
Signs (including shops, billboards etc.)
This design should not have this in the entries
No information provided.
Colors to use in the design
Red Black White (possibly blue)
Briefly describe your contest
Startup company looking for fresh logos.