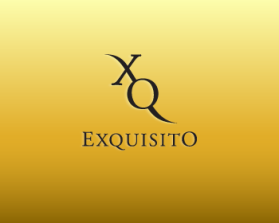 Logo Design Contest
Exquisito
by Dionysos
Contest received 312 entries and the contest holder has awarded a winner.
Company or website name
Exquisito
Slogan or Tagline
No information provided.
Describe your company and organization and target audience
Exquisito is an importer of luxury and premium wines and other gourmet items mainly from Spain. Our goal is to promote Spanish cuisine and to offer high quality products to restaurants, wine shops, and individual customers. Concurrently, Exquisito sells and implements restaurant management software application for automated order-taking, billing, stock management etc. Exquisito runs a website featuring gourmet e-shop, Spanish recipe section, and software application section.
The design should have the following
Exquisito represents exclusive, high quality, and healthy food items - superb tastes of wines made from ancient vineyards, of memorable olive oil, and other gourment items. The logo needs to symbolize luxury, gourmet delicacy delight, exclusivity, and ancientness. We would love to have an abstract symbol (icon) of \"XQ\" above the logo with \"Exquisito\" name, X somehow representing luXury and eXclusivity, eXquisitness, while Q symbolizes Quality. \"XQ\" would work separately as company logo. Beauty in simplicity.
This logo will be used for
Online (Website, facebook etc.)
Print (business cards, letterheads, brochures etc.)
Merchandise (mugs, t-shirts etc.)
Signs (including shops, billboards etc.)
This design should not have this in the entries
We do not want rustic logos, we expect luxury and exclusivity, yet without baroque trinkets. Logo needs to have modern flair (we promote healthy live style and hi-tech restaurant ordering system). We do not want any symbols of either wine bottle, or any other food item in the logo.
Colors to use in the design
Black, Red, Orange, Gold.
Briefly describe your contest
Exquisito gourmet logo contest