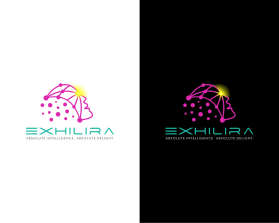 Logo Design Contest
Exhilira
by imbubbling
Contest received 154 entries and the contest holder has awarded a winner.
Company or website name
Exhilira
Slogan or Tagline
Absolute Intelligence. Absolute Delight.
Describe your company and organization and target audience
Artificial Intelligence platform that makes life a LOT easier for job seekers.
The design should have the following
A lean and highly-professional design. Must have an illustrative graphic with a distinguished brand identity that clearly captures both:
1. Artificial Intelligence (or machine learning or deep neural networks)
2. A feeling of satisfaction, pleasure, or excitement

The illustration may be above, to the left of, or integrated into the company name. Okay to use abstract concepts, but they have to clearly tie to the two points above. You may want to do an image search on #1 if you're not familiar with the terms.

The company name itself should use a font that also reflects an Artificial Intelligence business. Technical but not sci-fi.
This logo will be used for
Online (Website, facebook etc.)
Print (business cards, letterheads, brochures etc.)
This design should not have this in the entries
Logo should not be a just a pretty mark-up of the company name. I'll be facing multinational companies and a need a unique, memorable logo.

Please do NOT use heavy fill in your submissions.
Colors to use in the design
Purple, teal and grey should the be the main colors utilized.

MINIMAL use of bright yellows, oranges, or greens also acceptable.