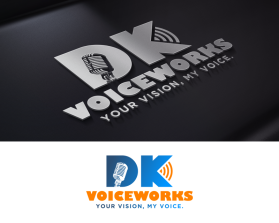 Logo Design Contest
DK Voiceworks
by dkammer
Contest received 266 entries and the contest holder has awarded a winner.
Company or website name
DK Voiceworks
Slogan or Tagline
Your Vision, My Voice.
Describe your company and organization and target audience
I do all kinds of voiceover work from voice mail systems and audiobooks, to animated characters and pinball machines. I am just getting started so the final direction of my efforts is not yet known.
The design should have the following
I think I would rather the logo be somewhat playful and whimsical instead of purely professional...but, at this point, I'd like to see all types since I'm not sure what will strike me.
This logo will be used for
Online (Website, facebook etc.)
Print (business cards, letterheads, brochures etc.)
This design should not have this in the entries
Nothing off-color or risque'...as much as I like that, I'm not ready to garner that kind of attention just yet.
Colors to use in the design
Very open here...probably saturated colors vs. pastels. But I'm really excited about seeing whatever you come up with.
Briefly describe your contest
A startup voiceover artist trying to break in. In it for the fun, not to necessarily pay the bills.