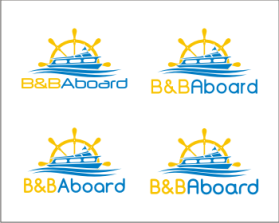 Congrats to lp_barcenas for submitting the winning entry
Logo Design Contest for
BnBAboard.com
by scottrowles
15CREATIVES
87ENTRIES
10,084CONTEST VIEWS
$105.00PRIZE AWARDED
Company or website name
BnBAboard.com
Slogan or Tagline
Floating your dreams...
Describe your company and organization and target audience
The company is a Bed & Breakfast company that uses boats as the "loccations". There are 4 boats in the fleet currently. They range from houseboats that have HUGE king size bedrooms with their own baths that feel the same as being in a room in your house. To sailboats that are low, sleek and have "berths" that you crawl into. To large motoryachts that have the wood paneled, teak and holly floor....old feel that have "berths", but are much more spacious that sailboats.

The target audience is water people, people who want a little more adventurous vacation, traveling younger people who want a little nicer more expensive place than a hostel with lots of "activity" options. We offer paddleboards, kayaks, fishing, waterskiing/wakeboarding, sailing, diving/snorkeling, bikes, scooters, a rooftop bar and hottub....all in one floating location.
FULL CREATIVE BRIEF
START YOUR OWN
CREATIVE CONTEST
Fast - see designs in hours
Awesome - choose from dozens of custom designs made just for you
Affordable - We have packages priced for budgets of all sizes
LAUNCH A CONTEST