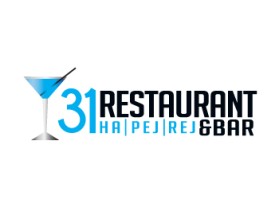 Logo Design Contest
31 Restaurant & Bar
by 31restaurant
Contest received 84 entries and the contest holder has awarded a winner.
Company or website name
31 Restaurant & Bar
Slogan or Tagline
eat. drink. relax.
Describe your company and organization and target audience
Restaurant serving Dinners Tue -Fri, Breakfast Lunch & Dinner Sat & Sun. Full Service Bar (Wine and/or Martini emphasis). Price point is mid to upper scale (Steaks $25, Apps $8, Sandwiches $9, Dinners $15) Theme is classic food with a twist and Greek food being the specialty for Dinner Entrees. Family/Chef Owned, Customers are professionals over 30.
The design should have the following
Clear and easily Visible logo. Will use as our signage and need it to be bold and stick in the mind...Possibly throw in a different slogan or idea
This logo will be used for
Online (Website, facebook etc.)
Print (business cards, letterheads, brochures etc.)
Merchandise (mugs, t-shirts etc.)
Signs (including shops, billboards etc.)
This design should not have this in the entries
No information provided.
Colors to use in the design
Purple Black White Yellow Blue etc
Briefly describe your contest
Restaurant & Bar Logo